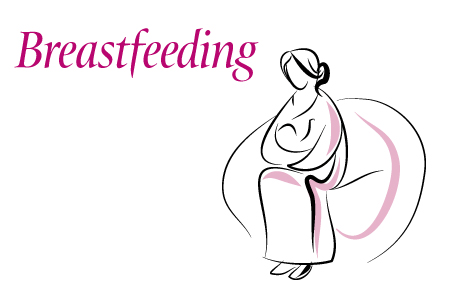 2:233 (Y. Ali) The mothers shall give suck to their offspring for two whole years, if the father desires to complete the term. But he shall bear the cost of their food and clothing on equitable terms. No soul shall have a burden laid on it greater than it can bear. No mother shall be Treated unfairly on account of her child. Nor father on account of his child, an heir shall be chargeable in the same way. If they both decide on weaning, by mutual consent, and after due consultation, there is no blame on them. If ye decide on a foster-mother for your offspring, there is no blame on you, provided ye pay (the mother) what ye offered, on equitable terms. But fear Allah and know that Allah sees well what ye do.
46:15 (Y. Ali) We have enjoined on man kindness to his parents: In pain did his mother bear him, and in pain did she give him birth. The carrying of the (child) to his weaning is (a period of) thirty months. At length, when he reaches the age of full strength and attains forty years, he says, "O my Lord! Grant me that I may be grateful for Thy favour which Thou has bestowed upon me, and upon both my parents, and that I may work righteousness such as Thou mayest approve; and be gracious to me in my issue. Truly have I turned to Thee and truly do I bow (to Thee) in Islam."
28:7 (Y. Ali) So We sent this inspiration to the mother of Moses: "suckle (thy child), but when thou hast fears about him, cast him into the river, but fear not nor grieve: for We shall restore him to thee, and We shall make him one of Our apostles
31:14 (Y. Ali) And We have enjoined on man (to be good) to his parents: in travail upon travail did his mother bear him, and in years twain was his weaning: (hear the command), "Show gratitude to Me and to thy parents: to Me is (thy final) Goal.
65:6 (Y. Ali) Let the women live (in 'iddat) in the same style as ye live, according to your means: Annoy them not, so as to restrict them. And if they carry (life in their wombs), then spend (your substance) on them until they deliver their burden: and if they suckle your (offspring), give them their recompense: and take mutual counsel together, according to what is just and reasonable. And if ye find yourselves in difficulties, let another woman suckle (the child) on the (father's) behalf.
Anas, may Allah be pleased with him, narrated: Salamah, the wetnurse of Ibrahim, the son of the Prophet, peace of and blessings of Allah upon him, said, "O Messenger of Alah. You give tidings of all the good to the men and you don't give tidings to the women." He said, "Did your female companions induce you to [ask] this?" She said, "Yes." He said, "Will one of you not be pleased that when she is pregnant from her husband and he is pleased with her that she has a reward like the reward of the one who fasts and prays in the way of Allah? Then when she is in labor, none of the people of the heavens or the earth know what is hidden for her of [pleasures,] soothing to her eyes. And when she delivers, no mouthful of milk flows from her nor a [child's] suck except that she has a reward with every mouthful and with every suck.And if [her child] keeps her awake during the night, she has a reward similar to the reward of freeing seventy slaves for the sake of Allah." (Tabarani)
Benefits of breastfeeding
Action Plan
How to start breastfeeding
The first time you hold your newborn in the delivery room is a great time to start breastfeeding. At the beginning, your body will produce small amounts of a special milk called colostrum that will help protect your baby from infection. (Your baby's tummy is very tiny, so she only needs these small amounts to fill up. As her tummy grows, your milk will change and you'll produce more of it.)
1. Turn your baby's whole body toward you, chest to chest.
2. Touch her upper lip with your nipple, and, when she opens her mouth wide, pull her onto your breast, holding your breast for support. Her mouth should cover not just the nipple but as much of the areola (the darker part surrounding it) as possible.
3. Don't panic if your newborn seems to have trouble finding or staying on your nipple.
4. Breastfeeding requires patience and lots of practice.
5. Don't hesitate to ask a nurse to show you what to do, and request visits from a lactation consultant while you're in the hospital (many hospitals have them on staff).
6.  If you have a premature baby, you may not be able to nurse right away, but you should start pumping your milk. Your baby will receive this milk through a tube or a bottle until she's strong enough to nurse.
7. Once you get started, remember that nursing shouldn't be painful.
8. Pay attention to how your breasts feel when your baby latches on. Her mouth should cover a big part of the areola below the nipple, and your nipple should be far back in your baby's mouth. If latch-on hurts, break the suction (by inserting your little finger between your baby's gums and your breast) and try again. Once your baby latches on properly, she'll do the rest.
How often you should nurse
Frequently. The more you nurse, the more milk you'll produce. Nursing eight to 12 times every 24 hours is pretty much on target. According to guidelines from the American Academy of Pediatrics (AAP), rather than nursing according to a rigid schedule, you should nurse your newborn whenever
she shows early signs of hunger,
such as increased alertness or activity,
mouthing, or
rooting around for your nipple.
Crying is a late sign of hunger – ideally, you should start feeding your baby before she starts crying.
During the first few days, you may have to gently wake your baby to begin nursing, and she may fall asleep again mid-feeding. (To keep her awake during feedings, you may want to unswaddle her or remove a layer of clothing.)
To make sure your baby's eating often enough, wake her up if it's been four hours since your last nursing session.
source: more info Breastfeeding Getting started
Other resources
Breastfeeding guide videos by midwife Asma Hanif