Narrated Abu Said Al-Khudri: Allah's Apostle (s.a.w.) said, "Whenever you hear the Adhan, say what the Mu'adhdhin is saying Bukhari 1:11:585
Narrated Mu'awiya r.a. as above (586) and added: "When the Mu'adhdhin said, "Haiya alas-sala(t) (come for the prayer)." Muawiya said, "La hawla wala quwata illa billah (There is neither might nor any power except with Allah)" and added, "We heard your Prophet (s.a.w.) saying the same." Bukhari 1:11:587
'Abdullah b. Amr b. al-As reported Allah's Messenger (may peace be upon him) as saying: When you hear the Mu'adhdhin, repeat what he says, then invoke a blessing on me, for everyone who invokes a blessing on me will receive ten blessings from Allah; then beg from Allah al-Wasila for me, which is a rank in Paradise fitting for only one of Allah's servants, and I hope that I may be that one. If anyone who asks that I be given the Wasila, he will be assured of my intercession. Muslim:4:747
Narrated Jabir bin 'Abdullah: Allah's Apostle (s.a.w.) said, "Whoever after listening to the Adhan says, 'Allahumma Rabba hadhihi-d-da' watit-tammati was-salatil qa'imati, ati Muhammadan al-wasilata wal-fadilata, wab' athhu maqaman mahmudan-il-ladhi wa' adtahu (O Allah! Lord of this perfect call (of not ascribing partners to You) and of the regular prayer which is going to be established! Kindly give Muhammad (s.a.w.) the right of intercession and superiority and send him (s.a.w.) (on the Day of Judgment) to the best and the highest place in Paradise which You promised him)', then intercession for me will be permitted for him on the Day of Resurrection"). Bukhari 1:11:588
Narrated Anas ibn Malik: The supplication made between the adhan and the iqamah is not rejected.Dawud 2:521
Narrated Abdullah bin Mughaffal Al Muzani r.a., "There is a salat between the two adhan (Adhan and iqama), there is a salat between the two adhan. And then while saying it the third time he added, "For the one who wants to (pray)." Muslim 4:1822
Abu Sha'tha' reported: While we were sitting with Abu Huraira in a mosque a man went out of the mosque after the call to prayer had been announced. (A man stood up in the mosque and set off.) Abu Huraira's eyes followed him till he went out of the mosque. Upon this Abu Huraira said: This man has disobeyed Abu'l- Qasim (Muhammad) (may peace be upon him). Muslim 4: 1377
Action Plan
1. Respect the adhan by stopping conversation. Even reading the quran.
2. Stay focus on the adhan.
Repeating what the muadhin say except for the hayya alas-solah and hayya-ala-falah. Instead say la hawla walakuata illa bila
3. After adhaan send salutations to the Prophet(SAW)
4. Then read the dua' wasilah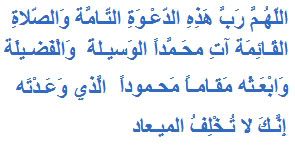 O Allah! Lord of this perfect call (of not ascribing partners to You) and of the regular prayer which is going to be established! Kindly give Muhammad (s.a.w.) the right of intercession and superiority and send him (s.a.w.) (on the Day of Judgment) to the best and the highest place in Paradise which You promised him)', then intercession for me will be permitted for him (s.a.w.) on the Day of Resurrection
5. Make dua between adhaan and iqamah.
source: manners listening to the adhaan